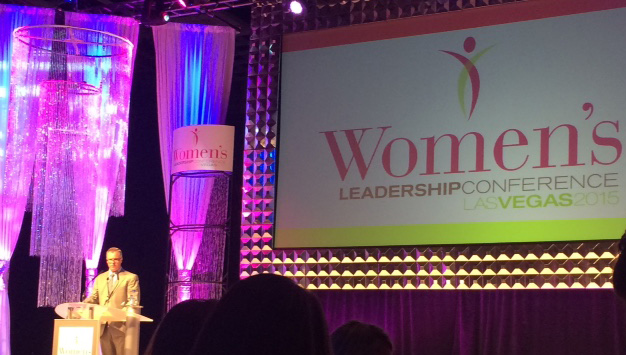 This year's Women in Leadership Conference at the MGM Conference Center in Las Vegas was something to be remembered. We heard from so many inspiring women (and men!), and acquired valuable wisdom and a renewed sense of confidence from these leadership ambassadors.
Day one kicked off with an eye-opening speech by Jim Murren, CEO & Chairman of MGM Resorts International, who discussed the ever-present diversity issue. This was followed by an introduction to this year's moderator, Natalie Allen, anchor and correspondent for CNN International. The first keynote speaker, Mary Chris Gay, MGM Resorts International Board member, drove home the importance of attitude, awareness and authenticity by inspiring the audience to step outside of their comfort zone.
After listening to opening remarks, the group broke out into educational sessions led by a handful of leaders in various roles. Some highlights included a session by Sarah Michel, certified Myers-Briggs Type indicator and facilitator, who educated the group on how to increase personal net worth. Dottie Li, Managing Director of TransPacific, delivered a powerful presentation on how to build your personal brand and provided great networking advice ending with a quote by Louis Pasteur, "Chance favors the prepared mind."
The afternoon panel discussion titled 'It's a Man's World… Not Really!' dove deep into a work/life balance exchange and lively instruction to "own your behavior" from Lillian Rodriguez Lopez (Coca Cola), Tina Quigley (RTC) and Cathy Tull (LVCVA).
Afternoon education sessions included one led by executive coach, Kevin O'Connor, who successfully awoke the "inner leader" with his definition of confidence. The final executive session of the day was delivered by the exhilarating Hajir Nuriddin who made her audience roar like a lioness, literally.
Day two began with a standing ovation for Admiral Margaret Klein, RADM who described the new face of leadership. She challenged the audience to work for an organization that shares their values and to never be afraid to ask for help.
Karen Hinds kicked off the educational sessions by teaching the group to make the right impression. She said, "You can't influence people if they don't know you, like you, and trust you." After receiving outstanding response on his speech about building cohesive teams, Dr. Ivan Joseph returned to shape the crowd's self-confidence. He emphasized that one can only build self-confidence through "repetition, repetition, repetition." Dr. Joseph's session was followed by Dr. Angie Taylor who urged attendees to prevent the death of radicalism, for "settling keeps us from being radical, being our best selves".
Two more powerful sessions followed. Hajir Nuriddin told listeners to "attack today with a passion unknown to mankind". And finally, Mary Ann Sena-Edlin discussed the value of surrounding oneself with positive people to be role models for teams to mirror. Pioneers for women in construction and architecture led a developmental panel discussion where dynamic Gerri Harris (MGM) instilled the power of knowing your value.
When ever-inspiring keynote, Patricia Russell-McCloud, took the stage, all were on the edge of their seats in anticipation. She moved the entire room from awe to laughter with her ABC's of Leadership. "If you really want to help yourself, help someone else."
Thank you to MGM Resorts International and all those who coordinated and attended this event. The enthusiasm and compassion were contagious. The women and men we had the privilege to learn from the past two days are true role-models for success. Once again, thank you for an unforgettable Women's Leadership Conference!
---